After my total knee replacement, it was really important for me to have friends around.  I enjoyed my  lunch dates and then later on, when I was feeling less tired, having people round for dinner.  I didn't want to feel isolated; I wanted to chat, to hear news, to gossip and what better way to do it than at a table, eating and drinking. The food didn't have to be complicated but cooking a meal made me feel as if I had achieved something each day during my convalescence.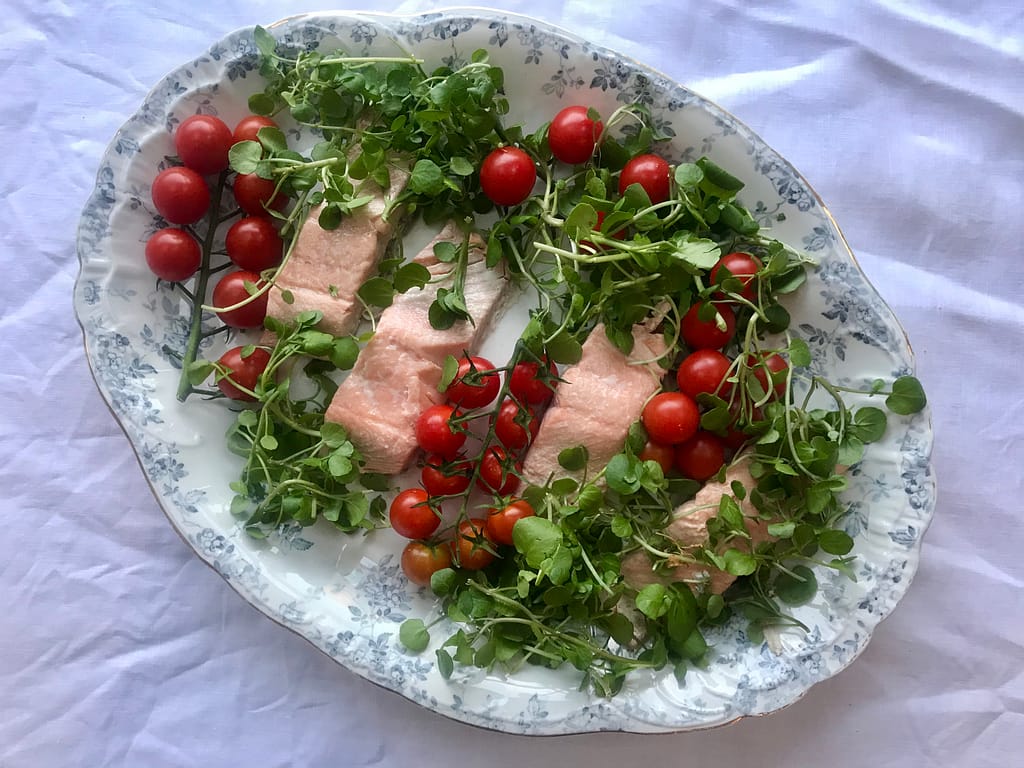 My husband cooked these salmon fillets  in the microwave and then just arranged them on a platter with watercress and tomatoes and served them with new potatoes and potatoes for a simple dinner.
If I was cooking, I found that it worked best, if I had planned everything out beforehand and was supremely organised.
 getting all the ingredients out the fridge and cupboards at once to avoid too much walking round the kitchen
pottering around any time to do the above, eg waiting for the kettle to boil or a cup of tea to be ready
dividing the tasks in putting together a dish of food into stages
doing some preparation earlier on in the day when I wasn't tired
cutting up everything and then having a rest before finishing off the dish
buying some food ready cooked and serving it alongside something I had made
getting other people to lay the table, sort out drinks and afterwards clear away while I had a sit down
For example, this was a carrot and baked orange salad on rocket with a pistachio dressing from Honey and Co's new book, 'At Home' which I served alongside some cooked ham. I made the pistachio dressing early on, and cut up the oranges and carrots.  Later on, I roasted the carrots and oranges and assembled it altogether.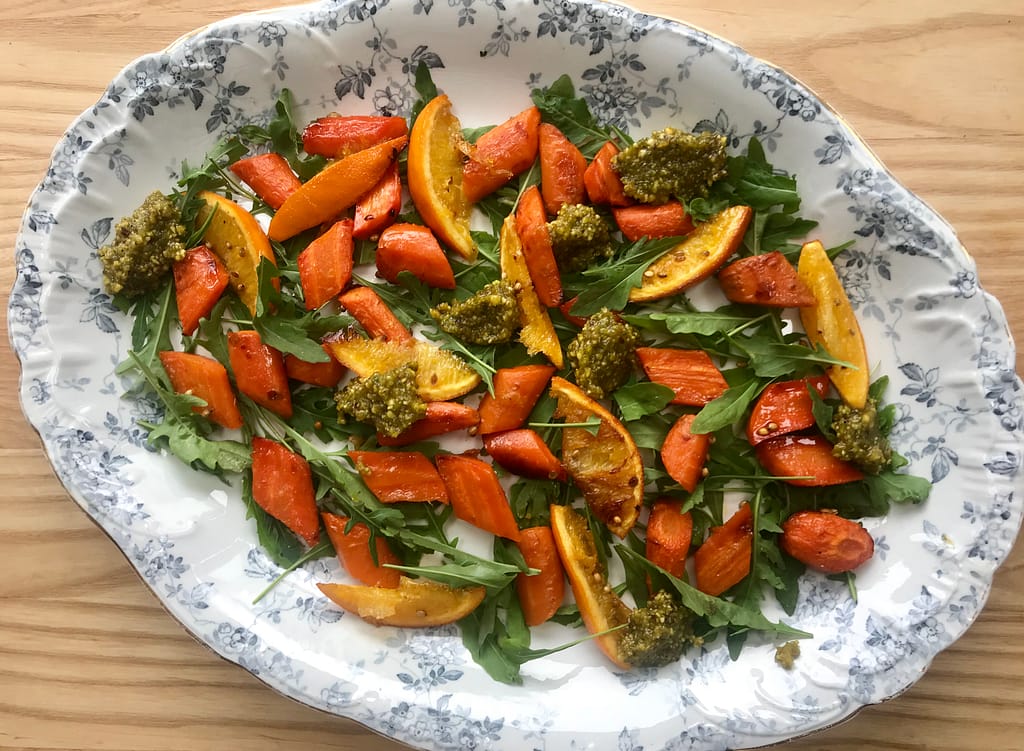 The best time was when my friend A brought the lunch with her in the middle of her working day, a frittata filled with herbs from her freezer and a quinoa, cucumber and pomegranate salad. She unpacked it all from a bright pink plastic basket, complete with plates and cutlery, followed by a bowl of cherries. And then cleared it all away and put all the leftoversin the fridge for me to eat another day which was even better.
This was a roasted aubergine salad when I could cut up and cook the aubergines early on in the day and deseed the pomegranate before making assembling the dish and adding a yoghurt dressing later on. It's my adaptation of this recipe.
Making this gooseberry and lemon thyme cake was another project that I split up over two days. I weighed all the ingredients out late one evening, topped and tailed the gooseberries for the cake and lined a cake tin. Then the next morning, I mixed together the ingredients for the cake and baked it. In the evening when friends were coming round for supper, I poached the rest of the gooseberries, decorated the cake and served it up with cream.