My elder daughter said that no one would be remotely interested in seeing pictures of my knee and my scar after my total knee replacement. She'd obviously heard far too much about it for her liking. However, a friend of mine, who had the operation a few months after me, found them fascinating and reassuring so I've put them here in one post which can easily be skipped over.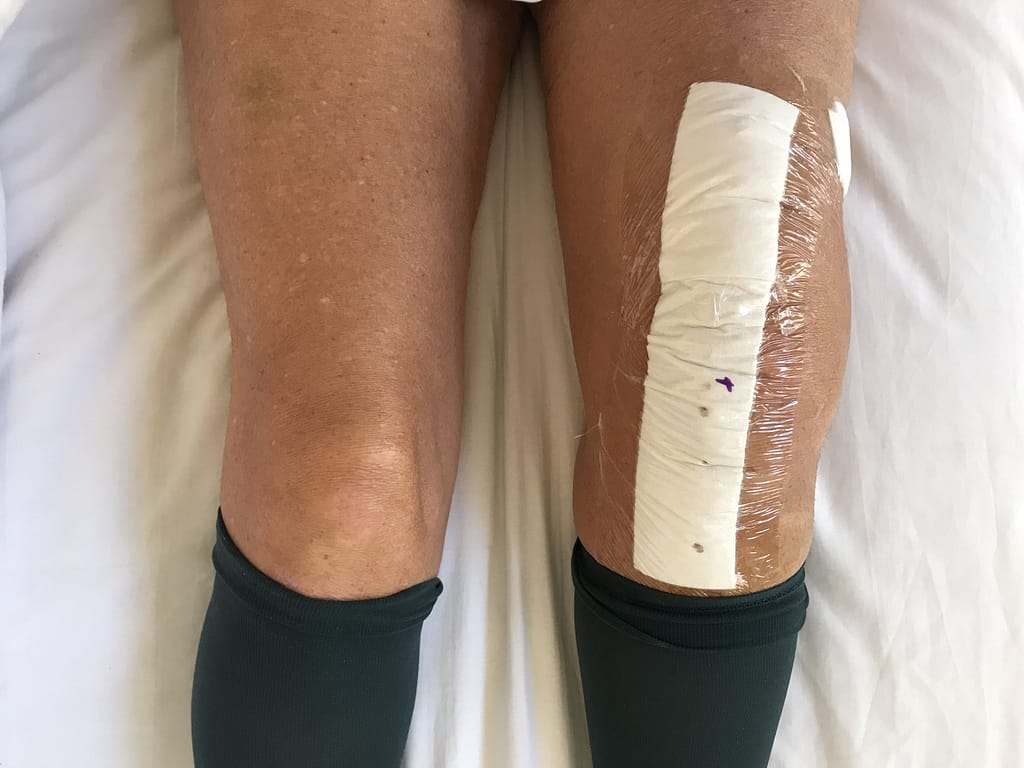 My wound only bled a tiny little bit and the purple cross was drawn on by  the radiographer when he lined it up to take a post operation X-ray. I was amazed at how small the dressing was.
This is taken after the dressing was removed and was my first look at the scar. It was much better than I  had expected as I didn't even want to look at it at first.
This is a few days later and already I can see the difference. I should have probably put some moisturiser on my leg.
Day 35
It's so much more healed now. This was taken just before I went to the hospital for my post-operative appointment and got the all clear to  take off the hateful but essential TED socks. My knee was dirty in this photo as I had been putting Savlon onto the scar and it had attracted dirt which I thought was bruising. After my appointment, I was mortified and gave it a good wash.
Scar progress showing a thin white scar but my knee is still swollen.
I meant to take a photo one year on but I forgot. My knee is a normal shape and the scar hardly shows. I have been wearing sun dresses in the hot weather, (not quite as short as in the photo when I pulled my dress up specially to show the scar ) that are above the knee and shorts on my holiday.