After a total knee replacement, or indeed any major operation, then food just has to be easy. It's the time that I thanked my lucky stars for ready meals, takeaways, freezer meals, and for frozen, tinned and pre-prepared vegetables, I am also very much aware that I wasn't on my own as my husband and younger daughter could prepare meals and cook and tidy up in the evenings and weekends. Nourishing food plays an important part in ensuring a good recovery from an operation but it doesn't have to be difficult and it doesn't have to be fancy.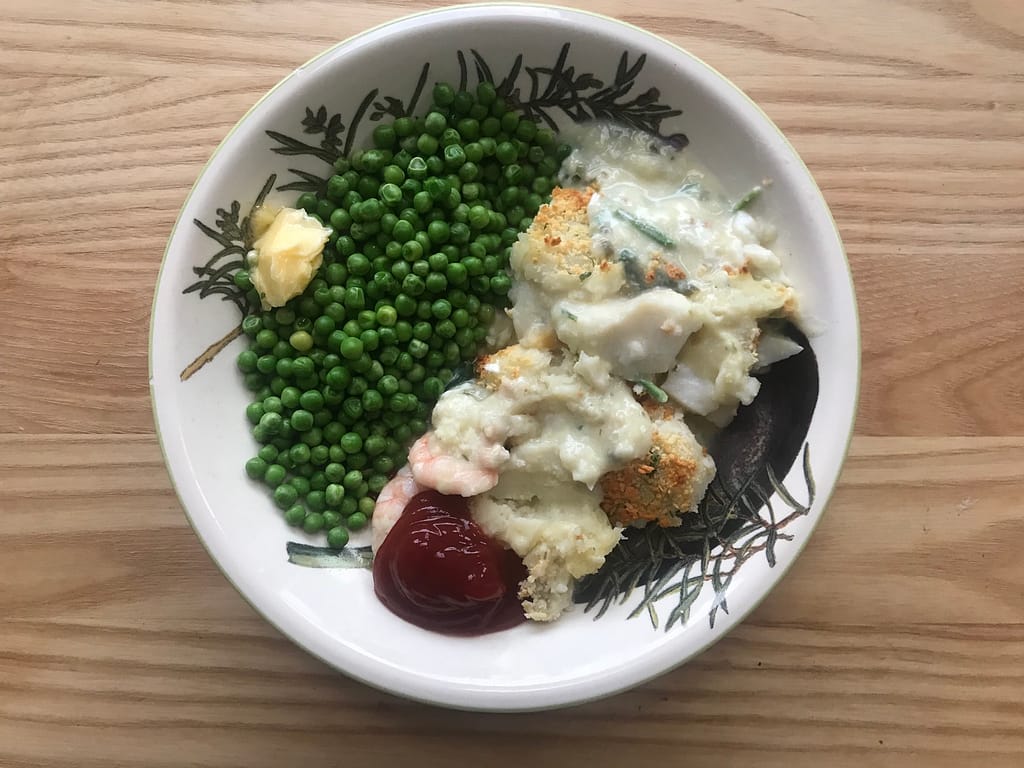 None of these photos are styled; they are what we ate. I wanted to keep to a good routine and not to graze by the fridge and also to continue eating a diet high in vegetables, fruits, wholegrain cereals, nuts and seeds, legumes, fish, olive oil and good-quality, non-processed lean red meats. This doesn't mean that there wasn't pizza, biscuits, cake and chocolate but just not all the time.
These are all meals we ate the first week or two and they are not styled as you can no doubt tell. I just took a photo with my phone before I ate.
BREAKFAST
I always have the same thing for breakfast in the week, Bircher muesli with fruit and nuts or seeds on top. It's 2 tbsp of oats, a mixture of porridge oats and Jumbo porridge oats, 2 tbsp Greek yoghurt and a grated apple, topped with whatever fruit there is in the house. It's crucial to my wellbeing that the fruit  is arranged on top and not mixed in.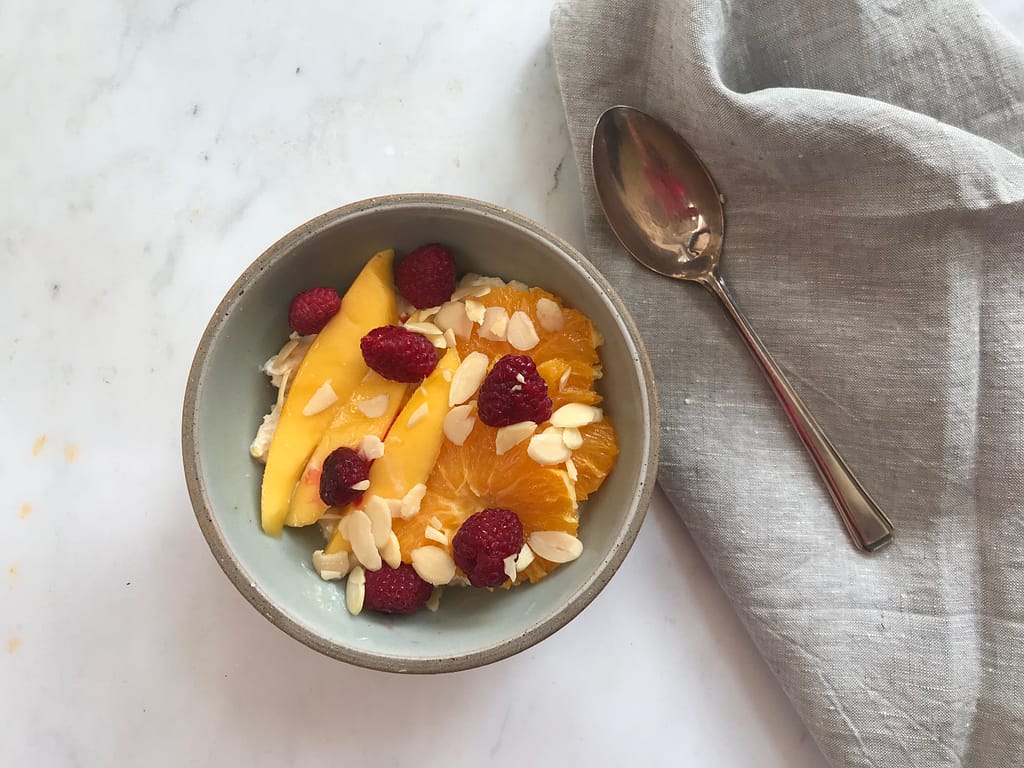 FREEZER MEALS
This is a moussaka that I made the morning before my operation and put in the freezer but I also am big fan of M and S moussaka.
PASTA 
This is great for a quick meal when everyone is suddenly hungry. On the Tuesday after my operation, there was an England World Cup game and my husband made two  bowls of pasta following instructions that  I bawled down the stairs at suitable intervals. "Cook some pasta. Fry some bacon and cut it up. Defrost some peas in the microwave. Get some cream out the fridge. Stir it altogether and grate some black pepper and Parmesan on top." It's delicious and is now a regular fixture
SALAD
We ate a lot of salad. I made this one sitting at a table a week after my operation by lining a platter with a packet of rocket, tearing up prosciutto, crumbling feta, slicing nectarines, sprinkling with basil and then seasoning with salt and pepper, drizzling with olive oil and then squeezing over half a lemon.
ROAST DINNER
A week after my operation, my younger daughter offered to cook anything I liked, (and she works as a food journalist). I chose roast chicken with sausage balls and bacon rolls, After protestations that it wasn't Christmas and it was too hot to put the oven on, she demurred and cooked this wonderful meal with roast new potatoes, carrots and leeks.
.
PUDDINGS 
We ate a lot of fruit but as it was so hot, that is what we wanted, cut and arranged on a platter, with leftovers for breakfast sometimes.
When my younger brother and sister in law came to dinner, we ate these brownies (which had been  a present) with a box of strawberries and a tub of cream on the table, and wondered what my mother would have said, as everything was straight from the packet with no serving dishes involved.