I thought seriously about the way I was eating before my operation as I wanted to be in the best health possible in order to face major surgery.
If you are fortunate to have a more stable lifestyle, more education and more income, then you are able to make more informed choices about what you shop, cook and eat. You can afford better quality food and have more diverse food experiences, entertain, eat out and travel. This has been at the forefront of my mind while writing this blog.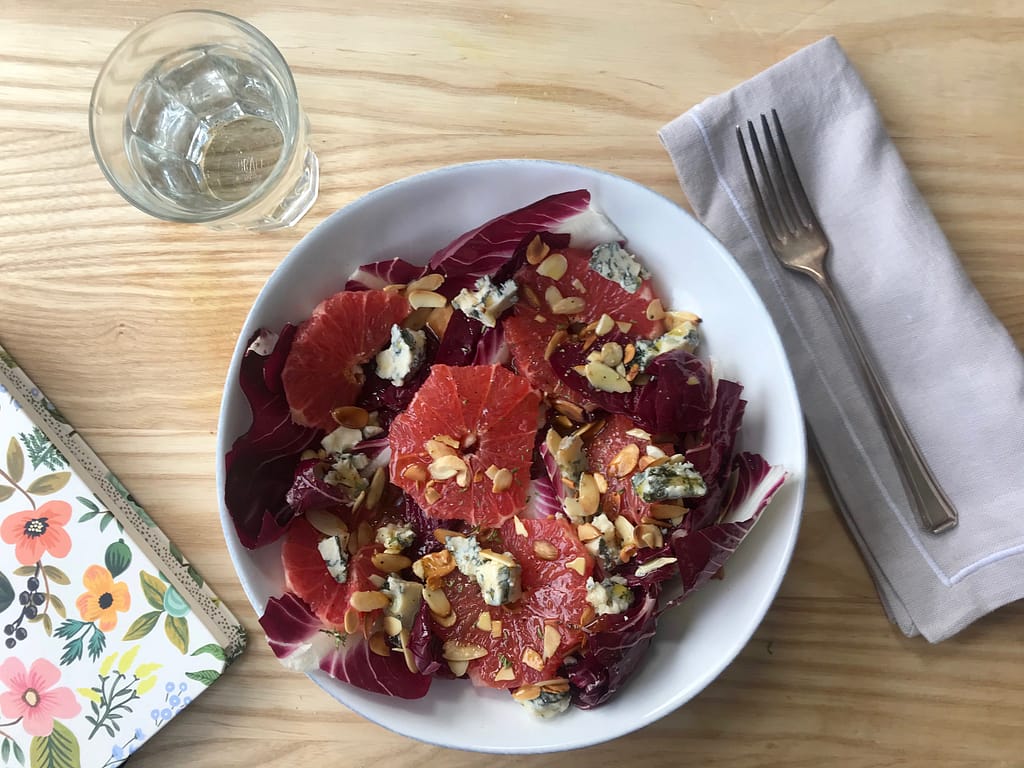 Signe Johansen's radicchio, orange and Gorgonzola salad
The salad recipe pictured above is in this article.
This is what I decided to do:-
-to eat three meals a day at regular times
-to not snack imbetween meals
-to eat food that was nutritionally dense
-to eat more fish and seafood
-to eat more vegetarian meals
-to eat more whole grains, beans and lentils and to cut down on refined carbohydrate
-to eat a diverse selection of vegetables and fruit each day
-to be more mindful about eating biscuits, cake and puddings, keeping them mainly to  the weekend and when eating out.  Even then, I could say 'no thank you'
In the six months, leading up to my operation, I lost 6.3kg, (14 lbs) in following my own guidelines.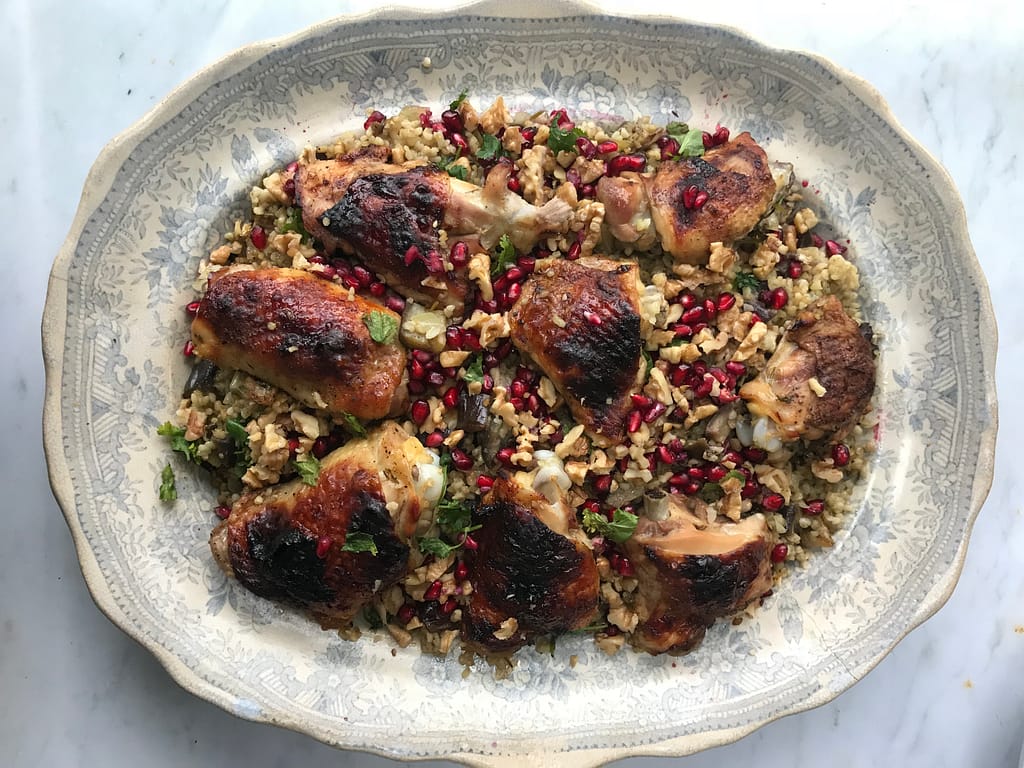 You can find the chicken recipe pictured above here.
I have always followed the debate about "healthy eating",   "good" and "bad" foods  and "different diets". This is what I concluded.
-Everyone need to eat. It's life sustaining and it can't be given up as can drugs or alcohol.
-Food is love. It's caring and sharing. Sitting round a table, sharing food with family and friends is one of life's greatest pleasures. When you take the time, to sit down and eat food on your own, you are nurturing yourself.
-There is now so much obfuscation and privilege and emotion bound up with simply eating food.
-If you are hungry, any food is a good food.
-No food is healthy or unhealthy. It's just food.
-Eating food isn't about having 'treats'.
I thought about where I shopped for food and how to eat sustainably and seasonally. There isn't a row of independent shops near my house where I can shop, complete with wicker basket in which to pop my purchases. In fact, I couldn't carry a lot as it hurt my knee.
When, I think about it, I've had the same philosophy all my life, taught by my mother how to shop sensibly and how to cook, cooking for myself since the age of eighteen when I left home and in turn, teaching my two daughters to cook themselves.
Goats cheese, tomato and giant couscous salad, hummus and avocado salad
I realise my inherent privilege in being middle class, and comfortably off so that I don't have to count every penny I spent on food. I have the space, equipment, knowledge and ability to prepare it.  I shop at supermarkets on my local High Street, the fruit and veg stall that is there at the weekend and sometimes online.