This pear, walnut and blue cheese salad is a hardly a recipe, more a compilation of ingredients which can all be switched round. You can use watercress or rocket or any other salad leaves, and any blue cheese you have such as Stilton, Gorgonzola or Dolcelatte. Apples instead of pears are fine but eat the salad straight away or squeeze lemon juice over the apples so they don't go brown. If you don't have walnuts, you could use pecans or hazelnuts instead.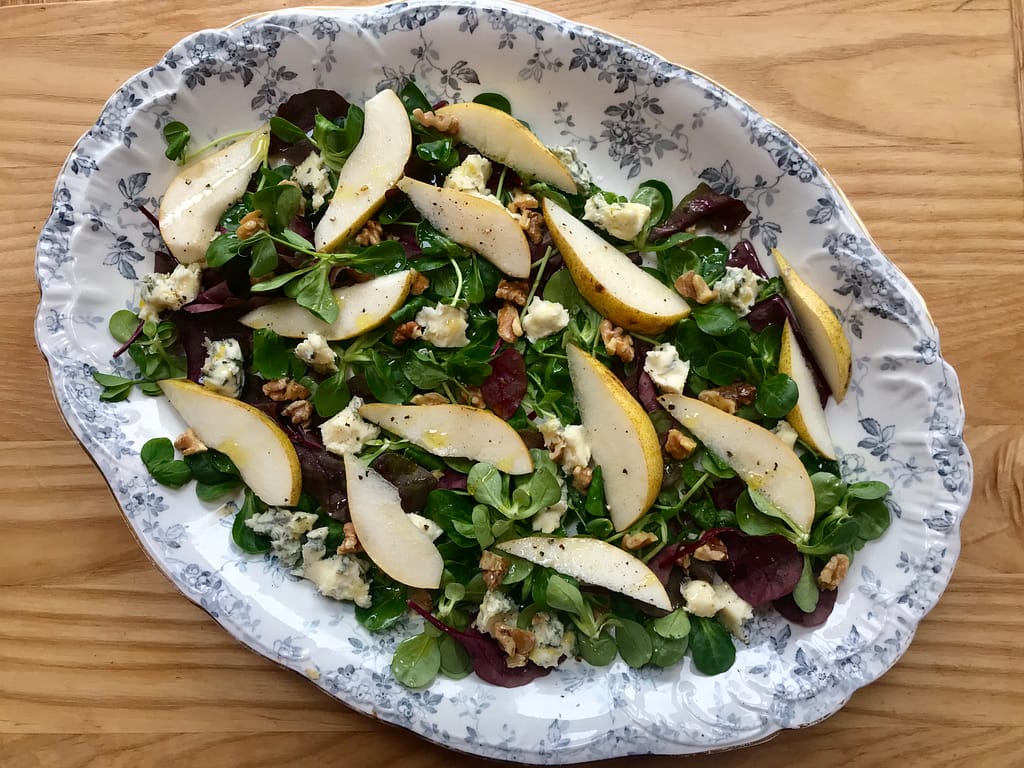 It's so quick and easy and very addictive. Once I've remembered it, I make it over and over again.  I try to buy the ready to eat pears as otherwise I have pears on the fruit bowl which are rock hard, and then in a blink of an eye, they have gone soft and mushy. In extremis, I've used tinned pears and drained away the syrup or juice they've come in.
INGREDIENTS (to serve 2)
50g salad leaves or watercress or rocket
Two pears, cored, and sliced into eight pieces
75g Gorgonzola dolce cheese, cut or crumbled into little pieces
25g walnuts, chopped
Drizzle of olive oil and a squeeze of lemon if wanted
METHOD 
Toast the walnuts in a small hot pan for a couple of minutes until they are golden
Spread the salad leaves out onto a serving dish. Scatter on the pears, then the cheese, then the walnuts. Season and drizzle with olive oil and squeeze over some lemon juice.