This pea and avocado dip can be whizzed up very quickly in a food processor or with a stick blender so it's ideal when you're tired or can't stand up for long. I often have it with some tomatoes, cucumber sticks and slices of red pepper for lunch. Pitta crisps make a good alternative. Sometimes I swap coriander or basil for the mint and lime for the lemon but I like to keep this simple and fresh by not adding other ingredients such as tahini, yoghurt, chilli and garlic. But of course, do feel free to experiment with what suits you. And it's vegan.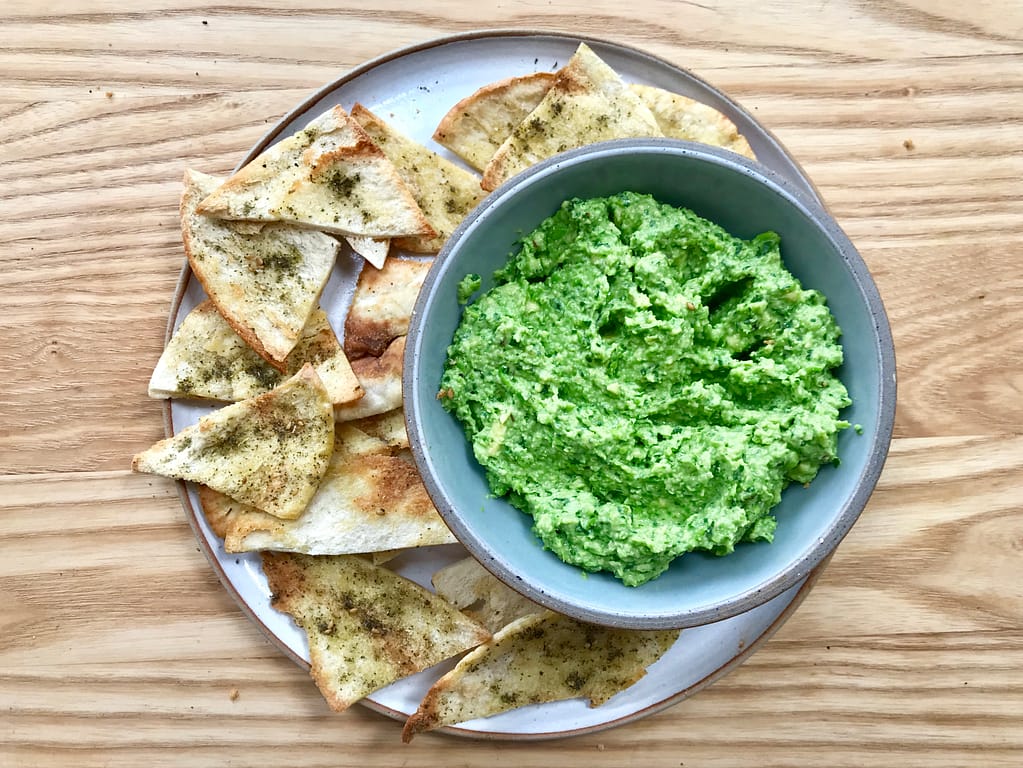 INGREDIENTS
One ripe avocado, peeled, stoned and chopped
150g frozen peas
2 tbsps chopped mint (about 5g)
Zest and juice of half a lemon (1tbsp juice)
Salt and pepper (quarter tsp salt and some good grinds of black pepper)
METHOD 
Defrost the frozen peas in the microwave for a couple of minutes until soft.  Or if you've thought about this in advance, just let them defrost in a bowl. Or boil them for a minute or two. It's up to you.  Drain off any water and put them into a food processor or bowl if you are using a stick blender
Add the avocado and the rind and juice of half a lemon.
Whizz until blended together  and adjust seasoning.
ZATAR PITTA CRISPS 
INGREDIENTS 
3 pitta breads
2 tbsp olive oil
2 tsp zatar or dried thyme
METHOD
Preheat oven to 180C
Split pitta breads down the natural join and cut in half and then into six long triangles.
Spread out onto a baking tray, drizzle with olive oil and toss them altogether. Sprinkle each one with some zatar or a bit of dried thyme
Bake for 5 mins, turn them all around and bake for another 2 minutes. Watch them so they don't burn and take out any that are already golden when you first turn them.