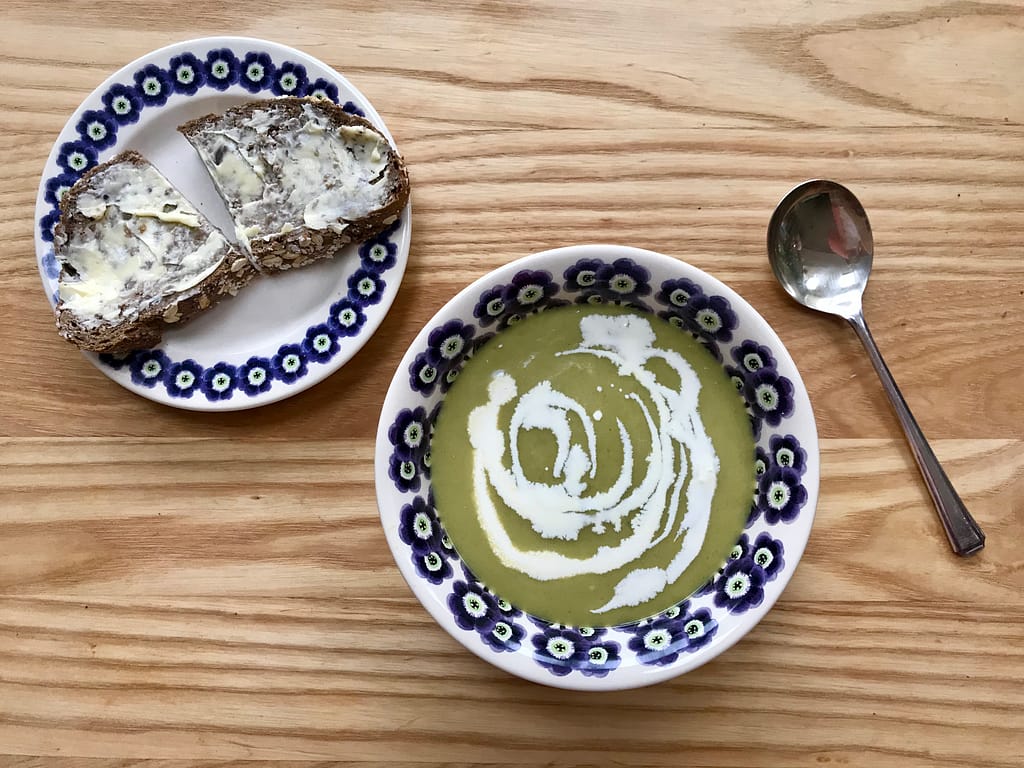 This leek and celery soup is one I make all the time. Soup is so comforting after an operation and someone else can make it and leave it for you to heat up. The exact weight of ingredients doesn't matter, as whatever you use, it will work out fine. I freeze it in one portion sizes so there's always something to have for lunch. I often have it straight from a mug  but for the photo, I put it in a bowl and swirled in some cream. That's entirely optional. If you can't stand up long enough to chop the veg, you can do it in a food processor or buy ready chopped frozen veg, called  'sofrito' or 'classic vegetable base mix.' I never knew this existed until a few months ago but it can be very useful.
INGREDIENTS
3 tbsp olive oil or 50g butter
1 onion, about 125g, chopped finely 
3 sticks of celery, about 125g, chopped finely
3 cloves of garlic, crushed or grated ( mine were quite small so according to taste)
500g leeks, finely sliced
1 litre vegetable or chicken stock
A bay leaf
Tsp fresh thyme leaves or half tsp dried thyme
METHOD
Melt 50g butter in a large heavy saucepan, (or heat up 3 tbsps light olive oil if vegan,)  and cook the onion and celery gently for 10 mins until soft.
Add the garlic and cook for another minute. If you add it earlier, it may burn and go bitter.
Stir in the leeks and let them soften for five minutes and then pour in the stock. Add the bay leaf  and the thyme. 
Bring to the boil and simmer for 20 mins.
Pick out the bayleaf  and blend till smooth with a stick blender or in a food processor or liquidiser.
Check the seasoning and serve. Add a spoonful of yoghurt or a swirl of creme to garnish.